This year, one of the world's most admired and respected musicians – Sipho 'Hotstix' Mabuse – celebrates his 50 year anniversary in the music industry.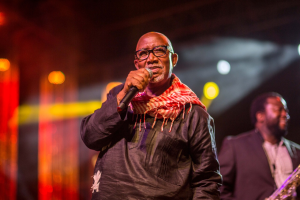 "Thank you, South Africa, thank you, everyone," Mabuse says. "It has been a remarkable year with some amazing shows and events, all made amazing by the fans in attendance. I did a pop-up performance in Cape Town in April, in front of the glasses installation on the Sea Point promenade, along with the poet Siphokazi Jonas." That seemed to springboard the whole celebration that's become my celebratory 2016."
Highlights for Mabuse in 2016 include shows in Botswana and Swaziland and performances with the likes of Johnny Clegg. "I was even celebrated as the keynote speaker at Music Exchange #MEX16," he recalls. "I also performed at the annual music indaba, Moshito, as well as part of Joy of Jazz and Metro FM, all while inviting a request to be the guest of honour at More Jazz, series six, in Maputo. Media support has been amazing. Thank you," Mabuse adds. "Particular thanks must go to Kaya FM, who gave me a whole day to celebrate the work we are doing and we even got the hashtag #Hotstix to trend."
"It's hard to believe it's been 32 years since I released Burn Out. I am humbled by all the love and support. Thank you, all."
As for 2017, Mabuse says, "I have started on my book. It will be a memoir of my life, and it will be out in September next year. There will also be a national tour. I'm not about to stop walking on my road. I'm a voice in a space that speaks truth to power."
For more information, visit www.hotstix.co.za. Alternatively, connect with him on Facebook or on Twitter.